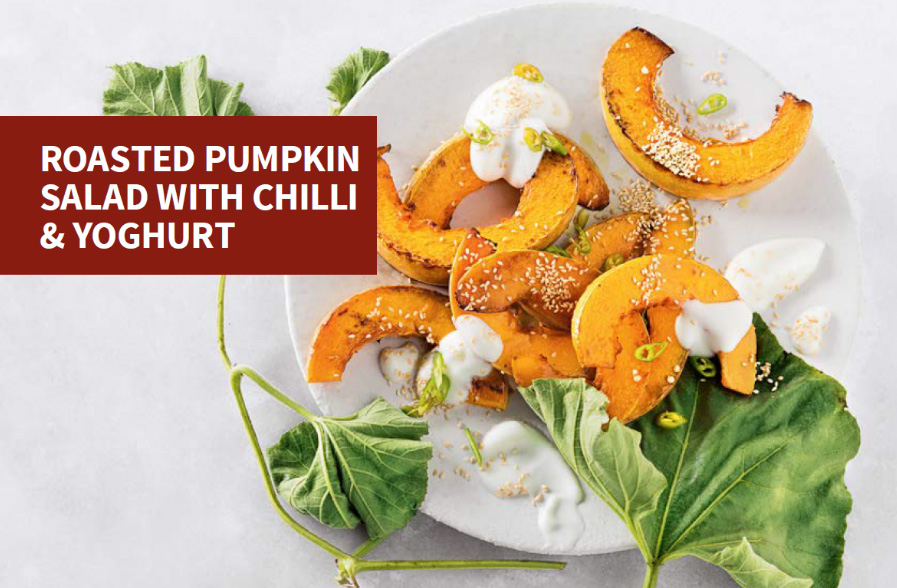 Roasted Pumpkin Salad With Chilli & Yoghurt
4 servings
50 min
October is a month of much seasonal produce, from celeriac and cauliflower, cabbage, wild mushrooms, aubergine, beetroot and fennel to apples, pears and of course pumpkin. Pumpkin can be a very versatile ingredient for sweet and savoury recipes.
October is also Autumn time! So to get you into that Autumn mood, here is a yummy seasonal recipe that you can try out: Roasted Pumpkin Salad With Chilli & Yoghurt.
Take a scroll and get ready for this delicious recipe.
INGREDIENTS
1kg pumpkin or butternut, chopped in large blocks
3 tbsp olive oil
4 cardamom pods
½ tsp cinnamon
½ tsp allspice
Large pinch salt
10 springs coriander leaves
1½ tbsp sesame seeds toasted
½ large red chilli, finely sliced in rings
150ml fat free yoghurt
3 garlic cloves, crushed with the flat side of the knife blade
METHOD
Preheat the oven to 200°C.
In a mortar and pestle, crush the cardamom pods to release their seeds and discard the pods. Crush the seeds finely and add the cinnamon, salt, allspice and olive oil.
Brush the pumpkin pieces with the spice mix, then place on a tray, add the whole crushed garlic cloves and cover with foil.
Bake for 20 to 30 minutes or until it starts to soften, then remove the foil.
Cook until soft and the edges start to caramelise slightly.
Remove from the oven and leave at room temperature, discard garlic.
To plate, arrange the pumpkin pieces on a large platter. Place the chilli slices on top, then the coriander sprigs (remove stalks) and sesame seeds.
Place dollops of yoghurt as dressing.
Serve at room temperature.
Back to Moodboard